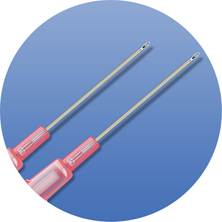 We supply specialized hypodermic needle parts of sharpened Cannulae for medical devices to customers around the world.
For many years we have been supplying stainless steel cannulae (cut tubing with a point) for hypodermic needles made to customer designs and specifications. As these are critical parts of medical devices, building "trust" relationships with our customers is our number one priority. We manufacture the cannulae to our customers' specifications, working with constant care and accuracy that reflects our motto, "verify and improve". This attitude enables us to retain our originality and deliver products of superior quality, even when the specs have remained the same for decades. Since our establishment in 1986, leading medical device manufacturers have placed absolute trust in us to deliver not only high-quality products but also low cost, specialization, communication and good lead times.
Globally, medical devices are becoming increasingly sharpened Cannulae, and highly specialized technologies are required. In order to meet customers' needs, we boldly take on new challenges, such as extremely specialized requirements (tight tolerance, minimal external diameter, minimal internal diameter, minimal overall length (with lancet point), taking pride in supplying products that make us pioneers in medical sharpened Cannulae technologies.