PRODUCTS

Moriyasu Corporation supply cannulae based on customer specifications and designs, within our own exacting tolerance range. Moreover, in order to meet customers' needs, we boldly take on new challenges, such as specialized requirements (tight tolerance, minimal external diameter, maximal/minimal internal diameter, minimal overall length (with lancet point), taking pride in supplying products that make us pioneers in cutting-edge medical technologies.
Point Style
Bias
Lancet
Back-cut
Crown
Triangle Wire
Double points with
intermediate blasting
End Shape
Radius
Chamfer
Standard Processing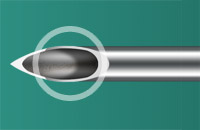 Micro Blasting
Removes heel-burrs on the point heel by air-blasting with ultra-fine glass beads. We also do non-coring processing on request.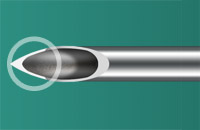 Electro Polishing
Uses an electrolytic device, and remove burrs from the point tip with electrochemical processing.
Secondary Treatment
Grit Blasting
Surface processing, mainly to enhance strength of bonding with other parts.
1) Standard: After blasting (270-degree), two silver lines are left on the surface of the pipe, but this has no impact on standard bonding.
2) Special: Blasts the entire circumference of the pipe (360-degree), for more effective bonding.
3) Middle Blasting: Blasts the middle portion of the full length of the cannula. Both 270-degree and 360-degree are possible.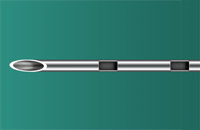 Notch
Cuts notches in the cannulae.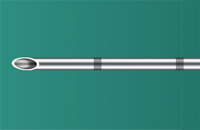 Markings
Applies markings to the cannulae.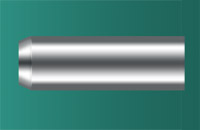 Dermal Punch
Sharpens the external/internal diameter at the tip of cut-offs using specialized technology.